Dragon steel, inc.
Our shop is located in Sun Valley California, serving Southern California. Contact us for an estimate today.
With the ability to use the output of the BIM software directly into our CNC machines, we are able to significantly cut down layout time during fabrication.

CNC Plasma Cutting
Our CNC Plasma cutting table allows us to quickly cut any shapes from steel up to 1"1/4 thick. Our oxy/acetelen attachment allows us to cut steel up to 6" thick.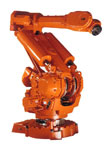 Robotic Beam coper
We are currently developing and growing our shop to include a robotic beam coping machince, this will again significatnly reduce fabrication time and increase productvity and efficiency.

About Us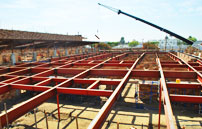 DRAGON STEEL, INC STRIVES TO BE THE BEST STRUCTURAL STEEL FABRICATOR AND ERECTOR IN IT'S CLASS.
Thank you for visiting our site and taking the time to read about our company.
We originally began in 1988 as a family business, and have since worked our way up and are now incorporated as Dragon Steel, Inc. We strive to be one of the best detailing, fabrication and erection shops in California. We provide all the services needed to complete structural and ornamental steel fabrication projects from detailing, to fabrication, to onsite erection and installation.
We process all our projects from beginning to end using AISC code of standard practice for steel buildings and bridges and adhere to the strictest safety guidelines provided by AISC and Cal/OSHA. We are a Los Angeles city approved fabrication shop in Structural Steel, High Strength Steel, Reinforcing Steel, and Light Gauge Steel and an AISC associate member enabling us to outperform most shops in our class by efficiently fabricating in house and erecting onsite, correct planning from the beginning results in accurate and timely work completion.
Accuracy and Pride in the work we perform
Our shop drawings are professionally detailed in house with state-of-the art 3D BIM, estimating and project management software for accurate and error free fabrication, resulting in efficient and precise fabrication, and timely onsite erection. Because of our high standard of quality and management, we are now actively pursuing AISC fabricator's certification.
The following is a list of industries served and categories of work:
Private
Residential
Design build
Commercial
Industrial
Public agencies
School districts
We take great pride in our standards and workmanship and in developing lasting business relationships with our clients. We look forward to doing business with you.